Mobility Dogs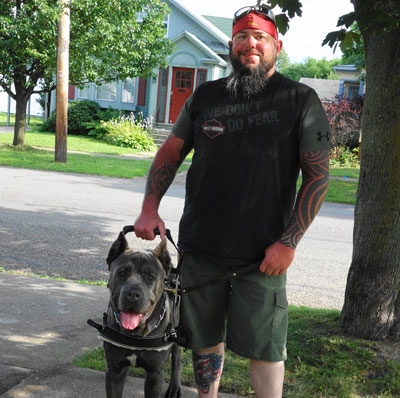 Mobility Dogs are a type of Service Dog trained to assist persons with physical disabilities that effect mobility. These dogs aid with helping to retrieve dropped items, turning lights off and on, checking out at the store (by giving the clerk their Handler's credit card, money clutch or wallet), and opening and closing doors. They can provide assistance to both ambulatory or wheelchair dependent Handlers. Helping transferring the Handler to and from the wheelchair along with a number of other tasks.
For ambulatory Handlers with mobility disabilities, Mobility Dogs help with stability and balance while walking. These dogs wear custom harnesses that allows them act as a counterbalance for their Handler while he/she is walking to help prevent falling. These dogs can also assist their Handlers with the same tasks as those used for the wheelchair dependent Handlers, such as retrieving items, opening and closing doors, assisting taking off clothing, retrieving a crutch/walker/cane, moving a laundry basket, and many, many more. Each dog's set of tasks is customized for the Handler's individual needs.
Mobility dogs are trained for a wide range of disabilities, including, but not limited to: Cerebral Palsy, Parkinson's Disease, Multiple Sclerosis, Spinal Cord Injuries, Fibromyalgia, and many more. Multiple disabilities can be accommodated, such as when a person needs the support of a mobility dog, but also needs help with PTSD.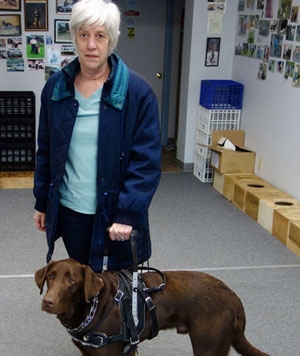 Mobility dogs are selected for their temperament, trainability, and proper drives. The size of their bodies and the condition of their hips and elbows is also paramount. It takes 12 months of Training to complete a mobility dog. Training in a mobility-type harness can only be done with an adult dog with good hip and elbow development. This can only be confirmed by a vet taking X rays. This will minimize the risk of injury to the dog by the weight of the harness and the balance work. Due to this, procurement of the correct dog for an individual Handler to be trained as a mobility dog could take longer than it is for other types of Service Dogs.
Please call me to discuss your particular need and what a Mobility Dog may do to assist you with your disability. Our Training and dogs will be ADA compliant to give you Public Access with your dog!